Commercial Floor Finishing
Our Techniques Can Make Office Floors Shine Longer
Clean floors are essential to keeping your building looking its best. From the entryway floor to your office, Stay Clean Solutions uses only the best commercial floor finishing products to keep your floors looking glossily. With the constant traffic of people with their high-heeled and hard-soled shoes, rolling briefcases and carts–floors can take a major beating.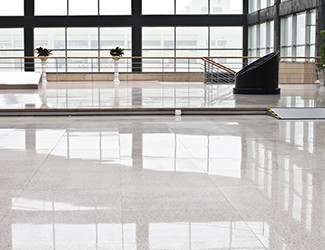 Floors that are scuffed, scratched, marked and damaged by employees, customers and others can prove to be a challenge when cleaning. At Stay Clean Solutions, we can handle the toughest situations. Our team of experienced cleaners has the background and knowledge of commercial floor cleaning even the most damaged of waxed flooring finishes.
Floors that look worn, old and damaged can reflect poorly on your building and its tenants. Hiring professional commercial floor cleaners can reverse these issues and provide a glossy finished floor that makes your building stand out from the rest by improving its appearance.
How Can a Commercial Floor Cleaning Company Keep My Waxed Floors Shiny?
When you own an office or store that attracts clients and customers, it's natural to want to create the best visual impression. You not only want to create an atmosphere that's inviting, but you also want to give the impression of organization and cleanliness in order to encourage a high perception of value… Read More…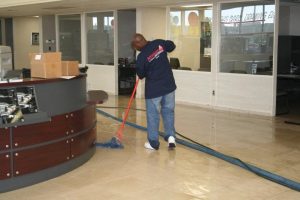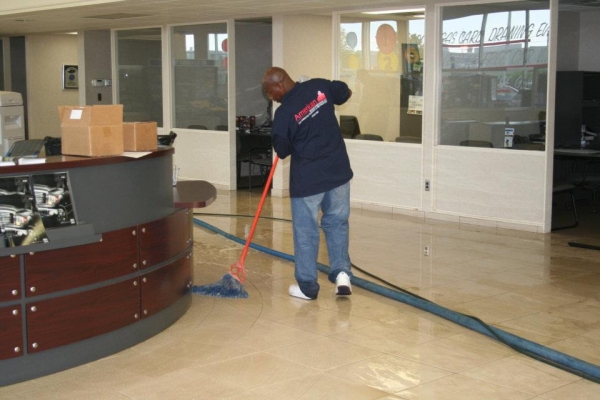 Services That Keep Floors Looking Glossier, Longer
It's no secret that, over time, sediments build up on your floors from mopping, wax accumulation and people. This will give the floors an undesirable or discolored look, making the building look less appealing. At Stay Clean Solutions, we don't just clean –we also give you tips on how to maintain your floors to keep them looking glossy. Maintaining your floors requires a little time, some specific equipment and some know-how. With these things in mind (and on hand), your waxed floors will look like new in no time.
While waxed floors create a sheen that welcomes guests into the room, damaged floors can turn an unsightly yellow color if they are damaged or not well maintained. Re-waxing isn't the solution, as additional wax adds more layers of product and makes the floor more difficult to maintain. Regular maintenance from Stay Clean Solutions will help keep your waxed hardwood, vinyl or linoleum floors shiny:
Vacuum floors every day. A buildup of dirt and grime can wear away the finish of waxed floors, so it's important to rid them of dirt on a daily basis.
Mop floors more thoroughly to loosen and remove dirt if the floors are beginning to lose their shine. Mix warm water and neutral detergent in a bucket. Mop the entire floor and follow with a mop rinsing of cool water.
Buff floors with a high-speed buffer at no more than 2000 R.P.M. With the use of a small amount of product, floor buffers clean and polish your flooring, which in turn adds a lustrous shine while further protecting your floor.
Apply a wax-based product to floors in conjunction with a buffer. This will add a new layer of wax to your floors. NOTE: Save this method for waxed floors that haven't responded to milder treatments.
At Stay Clean Solutions, we employ all the commercial floor cleaning services listed above to keep your hardwood, vinyl or linoleum floors looking shiny and new.
Routine and One-Time Cleanings
Depending on the level of traffic your flooring sees, it may need cleanings more or less frequently than other parts of your workplace. Additionally, the type of service you need may vary each time—from routine floor waxing to a complete strip-down and floor finishing finishing.
We offer both regularly-scheduled floor cleaning services, as well as one-time services as you need them. Keep a standing appointment with us to have your floors professionally cleaned every couple of weeks, or call us when they're starting to look a little lackluster. We partner with Livonia and Dearborn Heights, MI and Metro Detroit area businesses in whatever capacity they need us and always provide transformative results you can see for yourself.
Superior Results You Can See
Visitors to your facilities will immediately notice the full-gloss shine and scuff-free floors you've taken the time to maintain! Not only does professional floor cleaning leave behind stunning results that raise your reputation, they're part of presenting a clean, tidy, professional work environment. Our cleaning crews work tirelessly to absolve your floors of any imperfections or blemishes that might accumulate—including scuffs, peeling, stains, discoloration, scrapes, scratches and more. Let us help you extend the appeal and the life of your floors, so they continue to provide visitors with a good impression for years to come.
Trusted by Businesses Throughout Southeast Michigan
Businesses of all types and sizes throughout Livonia, MI and Metro Detroit area put their confidence in Stay Clean Solutions to deliver superior surface results. We've restored the floors at office buildings, car dealerships, grocery stores, retail establishments, government facilities and just about anywhere else you can think of! From linoleum to natural stone, engineered flooring to hardwood and more, we make sure your investment in flooring is one that retains its appeal over the long-term.
Let us help your business maintain its reputation for excellence and professionalism with clean, renewed, restored floors that look superb with every step.
Extend your floor's life with the crew at Stay Clean Solutions. Contact us today at (734) 338-6118 for floor finishing services, carpet and upholstery cleaning, COVID cleaning, and more.