Commercial Cleaning for Auto Dealerships
Car dealerships are heavily-trafficked environments where presentation matters. You need people to feel comfortable and welcome, so they can focus on the vehicles and your team can focus on the sales. Stay Clean Solutions provides comprehensive car dealership cleaning for dealers across Southeast Michigan, with our headquarters located in Livonia, MI
Click to Schedule Cleaning Today!
Whether you need your indoor facilities detailed from top to bottom or your exterior power washed and cleaned, trust our experienced car dealership cleaners to leave behind results that make your dealership an image or perfection.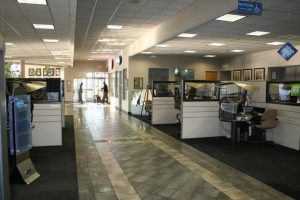 Showroom Flooring Cleaning Solutions
Vehicles and dealership showrooms are filled with high-value items: from the inventory itself to the sales awards your team has won. We use delicate cleaning products and material to ensure the highest levels of cleanliness. More than that, you can trust our experienced car dealership cleaners around your facilities. We report damage or items of interest wherever we see them, lock doors, set alarms, and log activity as required, ensuring your building is as safe as possible.
Our Car Dealer Janitorial Services
Our janitorial services for car dealerships include everything from shining polished floors to pristine upholstery and streak-free glass, we turn dealerships into welcoming showrooms that people feel comfortable in. Not only will our commitment to delivering a deep clean impress you, we're certain it'll impress your customers—which translates into reputability for your dealership.
If you're looking to stand out as the place to buy a car in Livonia, MI and Metro Detroit area, turn to our car dealership cleaners to keep your facilities sparkling. From floor to ceiling, linoleum to light bulbs, we leave no surface untouched and every square inch looking spectacular.
Schedule Car Dealership Cleaning
From small local dealerships to chains across Southeast Michigan, Stay Clean Solutions is the car dealership cleaning partner dealers trust to keep their facilities in top condition. You focus on moving inventory; we'll focus on giving people a comfortable environment they feel good about. Contact us today at 734-338-6118 to schedule our janitorial cleaning services. We're also available for tile and marble cleaning!