Quality Cleaning Near Troy, MI
A Premier Janitorial Company Providing Top-Quality Cleaning Throughout the Troy Area!
Here at Stay Clean Solutions, our mission statement is simple: "To provide the most reliable and the highest quality cleaning service in the Metro Detroit area." And we do just that – and beyond!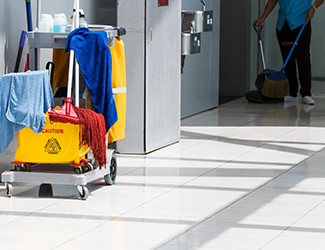 When it comes to a cleaning company you can trust, Stay Clean Solutions is SE Michigan's #1 choice. Our skilled team is dedicated to serving you and your business, giving you a variety of commercial cleaning options to choose from. We want you to get the cleaning you deserve, which is why we offer a 100% satisfaction guarantee. Our customer's happiness and satisfaction are our top priority.
Our team provides the best interior cleaning such as upholstery cleaning, floor care, tile and grout cleaning, strip and wax, just to name a few! We clean offices, car dealerships, restaurants, schools, industrial buildings and other businesses around the Metro Detroit area. This is why a lot of Stay Clean Solutions customers prefer our company to clean their facilities.
Complete Janitorial & Cleaning for Troy Businesses
Whether it's office cleaning, janitorial work, floor cleaning or building maintenance, Stay Clean Solutions does it best. We provide cleaning for virtually any type of facility or building. Our team understands clean, which is why we offer a plethora of services to keep our new and existing customers happy. A building's cleanliness speaks volumes and is a big part of what attracts people to keep coming back. We are Southeast Michigan's cleaner of choice for many area businesses – and with good reason!
The team at Stay Clean Solutions ensures that the job is done right, and done right the first time, by providing a thorough cleaning.
Porter Services
Day, night, and weekend uniformed porter services include any or all of the general cleaning duties provided to commercial customers:
Regular janitorial work
Lobby maintenance
Parking lot and landscaped area litter pick-up
Trash removal
Maintain clean and attractive building entrances
Entry-door glass cleaning
Light checks and bulb replacements
Air conditioning filter changes
Continuous service for common area restrooms
Emergency cleanup services
Another reason why customers choose Stay Clean Solutions over our competitors is safety. We will report damage or items of interest to the customer, lock doors, set alarms, and log activity as required ensuring your building is as safe as possible.
If you need high-quality janitorial work in the Troy, MI area, contact Stay Clean Solutions today! Contact us to claim your FREE estimate today to get a better clean for your property or business!